Background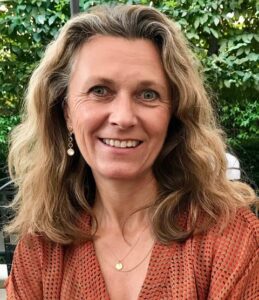 I grew up between two cultures and as an adult I count four countries and cultures as part of who I am. Should you count yourself among those with a multicultural upbringing and life, I offer specific insight and understanding for the issues that might arise as a result of your background. The term Third Culture Kid (*) has evolved to define a growing number of people who grow up between cultures, either as a result of parental choice or as a result of hardship in the parents' country of origin.
My experience as a volunteer at the Benioff Children's Hospital in Oakland, California, has also prepared me for working with children and adolescents in a hospital setting. It is the most beautiful experience to see joy spread accross a child's face despite illness and suffering.
Education and training
Art Therapist, Diploma from Institute of Art Therapy, Denmark
Certified practitioner of Healing Shame, method developed by Sheila Rubin and Bret Lyon, USA.
George Washington University, BBA, Washington DC, USA
Académie Charpentier, cours préparatoires, fine art, Paris, France
Académie de la Grande Chaumière, fine art, Paris, France
Other activities and practices
I continuously participate in courses, seminars and workshops to increase my knowledge and understanding of the field.
I have actively pursued my own art practice and exhibited the last 16 years. I have had my own art studio since 2006 in the San Francisco area and now in Copenhagen since 2017. I was part of a group of artists who created and opened GearBox Gallery (www.gearboxgallery.com) that opened in Oakland, California in 2015.
Languages
Fluent in English, French and Norwegian. I also work well with Danish and Swedish clients.
*Third culture kid (TCK) or third culture individual (TCI) are terms used to refer to children raised in a culture other than their parents' (or the culture of the country given on the child's passport, where they are legally considered native) for a significant part of their early development years. (Ruth Useem, 1950's)

 FIKT foreningen for integrativ kunstterapi

International Expressive Art Theraphy Association